---
[ Early - 1782 ] [ 1783 - 1849 ] [ 1850 - 1876 ] [ 1877 - 1892 ] [ 1893 - 1903 ] [ 1904 - 1960 ]
---
1850
January 29 - Lawrence Hargrave, fourth child of John and Ann Hargrave born at 18 Morden Terrace, Greenwich, England. The house is destroyed during WW2. [ref: Kent connection papers: Monash Lib.]

November - Pierre Jullien, a French Clockmaker, in the Paris Hippodrome, successfully flies his prophetic streamlined airship models (23, 49 feet long) hydrogen gas filled and propelled by two clockwork-driven airscrews. A fullscale airship 'Le Precurseur' is designed but never built?

Cayley makes the first instrument to investigate aeronautical streamlining. It is a variety of whirling arm [Gibbs p.53]

Alphonse Penaud is born in Paris. (d.1880). He will go on to devise in and around 1870 and fly on August 18 of 1871, the first powered aeroplane of modern design, the Planaphore (alt: Planophore)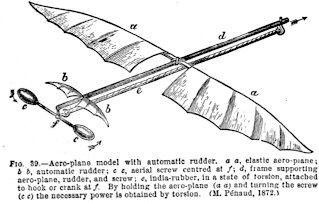 http://www.uh.edu/admin/engines/epi1129.htm
---
1851
March - Bland proposes his 'Atmotic (alt: Aermotic) Ship' [Carroll p.9] also see entry for 1866

March 27 - Margaret Johnston (Preston?) born in England (later to become wife of Lawrence Hargrave)

June 16 - Geoffrey Hargrave, fifth child of John and Ann Hargrave born in England. (d.Feb. 17, 1852)
---
1852
September 12 - Charles Green writes the following letter from Tufnell Park, Holloway (N. London) to Edward Lowne giving an excellent account of his many successful historic ballooning ascents

"Dear Sir,

Agreeable to request I herein communicate a few particulars relating to my aerial excursions. I had the honour to make my first ascent from the Green Park by order of government at the Coronation of George the 4th which took place on the 19th July, 1821.

On this occasion, I proved the practicability of ascending with corroborated Hydrogen (coal gas) being then the first person that ever ascended with a balloon so inflated.

Since that period I have made 501 ascents including the memorable Continental Voyage from Vauxhall Gardens London to Nassau in Germany 580 miles in 18 hours, crossing the Channel between Dover and Calais in 50 minutes, whereas in conveying the Duke of Brunswick to France we were 5 hours over the sea.

The greatest speed I have traveled in the air is 97 miles in 58 minutes.

I am dear Sir

Yours Faithfully Chas Green."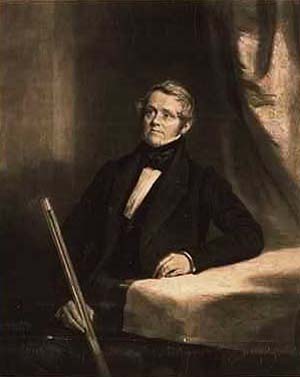 Mr Charles Green, the Aeronaut 1785-1870

Mezzotint ; 39.6 x 31.7 cm., Hollins, John, 1798-1855, Payne, G. T., engraver
London : Published by Hodgson & Graves, June 6, 1838
Catalogue of engraved British portraits, PIC S10492 LOC 7591-7600
National Library of Australia : Images1 Database. Record No13130


"Charles green made 526 ascents and was responsible for introducing, in 1821, balloons filled with coal gas. His first ascent was from St. James Park on 19 July, but his most famous flight was in 1836 in the Royal Vaxhault Balloon, which constructed with Robert Holland, M.P. and T. Mond Mason. Taking off from the Vauxhall Gardens on 7 November, he landed at Weilburg, Nassau in Germany after flying about 480 miles in eighteen hours. The Royal Vauxhall Balloon was renamed 'the Great Balloon of Nassau' in honor of this flight, and it was in this balloon that Green and Spencer took up Mr. Cocking on his fatal parachute descent of July 24, 1837. In 1840 he thought of an Atlantic crossing from New York to England. Charles Green is considered to be the inventor of the trail rope which is used to economize ballest and help in landing."

September 24 - Henri Giffard flies the first powered aircraft, his own design and built steam-powered dirigible [144 ft. long and 39 ft. in diameter, inflated with 88,000 cubic ft. of coal gas] from Paris to Trappes 27 kms at some 10 kms/hr [incl. Gibbs p.54]

September 25 - Cayley publishes illustration, a description and instructions how to fly a full-size glider in the 'Mechanics Magazine' and calls it a "governable parachute" [Gibbs p.54]
---
1853
February 14 - Alice Hargrave, sixth child of John and Ann Hargrave born in England. (d. 1903). Alice marries Alexander Patterson c.1880 and the have a child Alan (b.Sep.23, 1881, d.June 6, 1895)[ref: Kent connection papers: Monash Lib.]

Cayley builds an improved version of his "boy glider" and convinces his coachman to pilot it. The coachman makes an wavering, uncontrolled glide of a few hundred feet, the world's first true manned flight in a fixed-wing aircraft

also...

Cayley's third full-size aeroplane - almost certainly a triplane is tested. It makes the first successful manned gliding flight - across a small valley at Brompton Hall near Scarborough in Yorkshire with Cayley's coachman on board, butt as a passenger rather than as a pilot. It is known as the "coachman-carrier" [Gibbs p.54]
---
1854
October 24 - Gilbert Hargrave, seventh child of John and Ann Hargrave born in England. He travelled with sister Alice to Australia (most possibly when their mother came out in 1884). "Gilbert was unmarried and died at Liverpool, New South Wales some years after the 1914-1918 war" [ref: Kent connection papers: Monash Lib.]

Breant devises his 'butterfly-like', man-powered, rubber band-assisted, man-carrying, ornithopter
---
1856
December 15 - Pierre Maigre fails in attempt to make a lighter-than-air flight in Australia from Sydney's Domain - his balloon is destroyed by the unruly crowd

also...

Pierre Maigre attempted an ascent in a hot air balloon in the Sydney Domain. After inflation a tear was found in the fabric. This was repaired and inflation resumed. The sceptical crowd became impatient (having paid for a spectacle) and pushed forward towards the balloon. So many grabbed the guy ropes that the balloon could not lift. The crowd became angry. Maigre became frightened and took to his heels with the crowd in pursuit. He took refuge in the South Lodge of Government House. The crowd returned to the balloon and quickly burnt it and all of the seats, stands, railing etc. and smashed windows of the Lodge. In the fracas the restraining post colapsed, fracturing the skull of a boy Thomas Downs (11 years old), who died as a result.

http://www.bankstownairport.com.au/fun_facts/balloons/Balloons_Australia/index.htm
---
1857
February ? - John Fletcher Hargrave emigrates to Sydney, Australia where his younger brother Richard (1817-1905), is well established. He travels with with another brother Edward and his eldest son Ralph (aged 8 years). Ralph keeps a diary of the voyage. The diary, part of the Hargrave archive collection at Monash University, mysteriously? is embossed with the date 1836. [ref: Kent connection papers: Monash Lib.]

John Fletcher Hargrave becomes the Attorney General of New South Wales. His wife does not join him until some 28 years later in 1884. (to be confirmed). They both die the following year.

Jean Marie le Bris a French sea-captain builds and tests his first full-size glider based on the albatross. At Trefeuntec, France he mounts it on a cart and when released at speed, makes on short glide. He crashes on a second attempt.

Felix Du Temple (1857-1858) and his brother Louis in France, fly a model monoplane whose propellers are driven by a small clockwork motor. It takes of under its own power, flies a short distance, and glides to a safe landing. It is the first successful flight of a powered aircraft of any sort

The photograph known as "The Steiner Ambrotype" is mad. It is regarded as the first photograph of an American aircraft.

Copyright © 2000 National Air and Space Museum Smithsonian Institution
---
1858
Pierre Julien flies India rubber 'flapper' (ornithopter) in Europe

The first aerial photograph is taken from a balloon over Paris, France, by Gaspar-Felix Tournachon (1820-1910) otherwise known as Nadar.

February 1 - William Dean(e) is the first person to fly a lighter-than-air craft in Australia when he ascends in the balloon 'Australasian' made for George Coppin by C. H. Brown and/or Henry T. Coxwell of Tottenham, England. The 'Australasian' is made of 500 yards of 42inch French material and is 60 feet high, 40 feet in diameter and uses 31,000 cubic feet of gas. Originally to have taken both Brown and Dean aloft, at the last minute when the balloon was failing to lift Brown jumps out and Dean alone ascends from the Cremorne Gardens on the northern bank of the Yarra River just east of Punt Road. Dean floats seven miles across Melbourne landing near the Cambridge Arms Hotel in Sydney Road, Brunswick? [Copley p.2] [Carroll p.11]

also...

The first balloon ascent in Australia was made by Englishman William Dean in the 60 foot high "Australasian" built for the Hon. George Coppins by Mr H. Coxwell of Tottenham, England. Dean ascended from Cremorne Gardens, Melbourne and landed approximately seven miles away Dean's partner C. H. Brown left the car before release, there being insufficient gas to lift the two men. The balloon, with a capacity of 31,000 cu. ft. of coal gas, was partly inflated at the Melbourne Gas Works and filled at Mr Coppins' residence. It was made of a fabric envelope coated with a special varnish; when inflated it was 40 feet at its max. diameter.

http://www.bankstownairport.com.au/fun_facts/balloons/Balloons_Australia/index.htm

On trying to trace the 'Cremorne Gardens', the following was supplied by Robyn Jackson of the Richmond and Burnley Historical Society, 415 Church Street, Richmond, Victoria via Megan Lawson, Customer Service Specialist, 'Information Victoria'...

"The Cremorne Gardens no longer exist. They were situated in Cremorne and bounded by the following - Cremorne Street, Balmain Street, the railway and the Yarra River. The Gardens opened around 1856 and closed in the 1860's. The site then became home to a lunatic asylum which was closed in the mid 1880's. The land was then subdivided."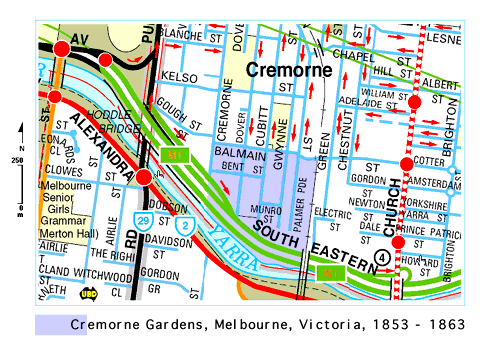 Map created from data at

Click to visit theWhere iS website




also...
Fear of Circuses: Founding the National Museum of Victoria
by David Goodman

http://wwwmcc.murdoch.edu.au/ReadingRoom/3.1/Goodman.html

"...When in 1853 Melbourne acquired its first permanent menagerie, the animals took their place in a context of spectacular entertainment. James Ellis' Cremorne Gardens, on the northern bank of the river Yarra in the suburb of Richmond, displayed foreign and native animals in an amusement park filled with wonders of all sorts, thrown indiscriminately together.

The garden's heyday was between 1856 and 1863, when it was owned and run by the great actor and entrepreneur, George Coppin 1. Ten acres of land were laid out in the manner of a botanical garden, dotted with attractions - the large 'Parisian' dancing platform on which, in 1853, instruction was being given nightly 'on that last new and very exciting dance "Pop Goes the Weasel"'; the walks 'brilliantly illuminated' by gaslight; the landing stage conveying guests to and from Princes Bridge in gondolas; two hotels and a bar; a maze; a theatre for presenting concerts from the resident orchestra and vaudeville.

An open air theatre for summer entertainment, including trapeze artists, foreign gymnasts and performing animals; a collection of sideshows, Juan Fernandez, who nightly put his head into a lion's mouth, a Fat Boy, a Bearded Woman, some Ethiopians, Wizards, as well as Billiards, Shooting Galleries, Punch and Judy shows and Bowling Saloons.

A lake with hire boats; a kiosk selling refreshments; a fine collection of statues; a 25,000 sq. foot panorama of Naples, the work of four artists, later replaced by scenes of Canton and Sebastopol; nightly displays of fireworks, which re-enacted suchspectacular events as the eruption of Mt. Vesuvius; provision for the holding of 'monster' lotteries; a balloon platform from which the first ascent in Australia was made by two especially imported English aeronauts, Captain Deane and Professor Brown; Mr Higgins' pantechnicon, and the menagerie containing emus,wallabies, kangaroos and possums, as well as lions, elephants, monkeys and parrots. [35]

The Argus [newspaper] described the atmosphere as 'Ellisian'. [36]

The gardens were said to be patronised by all classes, and admittance was free; though occasionally a night was set aside for the 'fashionable and wealthy' to experience the pleasures on their own. [37]

On New Years Day 1854, 5236 people were at Cremorne. The gardens were both popular and respectable - but they were clearly entertainment. What gave a unity to the assortment of objects and activities within their walls was a shared novel, curious, or spectacular quality. 'I like to seethings because they are novel, or because they are unusual, as well as on the ground of their being attractive or important,' wrote the approving reporter for My Note Book. [38]

Coppin promised 'rare and astonishing novelties'. His menagerie was subsumed into the theatre of the place - his animals were not there to be labelled, but to excite...."
Footnotes
[35] J. Alexander Allan, 'Coppin's Cremorne', Argus, April 8, 1933; Alec Bagot, Coppin the Great - Father of the Australian Theatre (Melbourne, 1965) pp.212-213.

[36] Argus, December 12, 1853.

[37] On the first such night, in 1858, My Note Book recorded the presence of 'a thousand to twelve hundred ladies and gentlemen enjoying the entertainments'. My Note Book January 30, 1858, p.463.

[38] My Note Book, February 6, 1858, p.471.

1 Coppin, George Selth, 1819-1906, actor, entrepeneur. Born in England. Went to Sydney in 1843. Acquired theatres, hotels, and the Cremorne Garden in Richmond, Vic. MLC, 1858-63. Toured extensively, including USA and England [ADB]. Plant/seed and animal donor to the Botanic and Zoological Gardens, Melbourne.

http://www.kcl.ac.uk/humanities/cch/mueller/mock/idx/brg.htm

also...

Allen John (Ed.), Entertainment Arts In Australia. pub. Sydney, Paul Hamlyn 1968 p/b. cr.4to.obl. pp.160.

Stirling, Alfred Old Richmond. Based on an address delivered to the Royal Historical Society of Victoria [ 239 A'Beckett St. Melbourne cnr. William St.], this history of Richmond surveys the scene prior to 1900. pub. Melbourne, The Hawthorn Press 1979 1st.ed. or.cl. d/w. 8vo. pp.56.

Copley, Greg, Australians In The Air. pub. Adel. Rigby 1976 1st.ed. or.cl. d/w. 4to. pp.290.


February 15 - C. H. Brown ascends in the balloon 'Australasian' and floats for 44 minutes from Collingwood Stockade to Brunswick [Copley p.4]

also...

C. H. Brown in "Australasian" made the second ascent. Taking off from Cremorne Gardens, Melbourne, he floated for 44 minutes and landed between Collingwood Stockade and Brunswick where he was attacked by onlookers. He claims to have risen to a height of 2 miles.

http://www.bankstownairport.com.au/fun_facts/balloons/Balloons_Australia/index.htm

March 25 - William Dean and C. H. Brown (technically Australia's first air passenger), make the first lighter-than-air night flight of one hour from Cremorne Gardens to Emerald Hill (now South Melbourne) [Copley p.4] [Carroll p.12]

also...

Dean and Brown made the first night ascent in Australia when they ascended from Cremorne Gardens, Melbourne (in Coppins' "Australasian") at 10pm and landed in Emerald Hill an hour later.

http://www.bankstownairport.com.au/fun_facts/balloons/Balloons_Australia/index.htm

December 13 - William Dean and C. H. Brown are first to fly a lighter-than-air craft in Sydney. The ascend from the Domain and float across Sydney Harbour [Copley p.4] [Carroll p.12]

also...

Ascending at 5pm from the Outer Domain Sydney, Brown and Dean floated across the harbour in "Australasian" and landed at Neutral Bay. The balloon was inflated by coal gas supplied by the Australian Gas Light Company in a two hour operation.

http://www.bankstownairport.com.au/fun_facts/balloons/Balloons_Australia/index.htm
---
1860
Samuel Archer King and William Black make the first aerial photographs in the USA, two images of Boston
---
1862
May 31 - Thaddeus Lowe was aloft in the balloon 'Intrepid', when he spotted large numbers of Confederate troops moving toward an isolated Union position. Lowe sent a telegram warning of the impending assault in time to allow the Union army to bring up reinforcements and prepare their defenses. Consequently, Lowe was credited with saving the Union army at the Battle of Fair Oaks.

in full...

Lowe and his Balloon Corps. By Dennis Carman

The American Civil War was, in many respects, the world's first modern war. Its many innovations included the first ironclad ships, the first successful submarine attack, repeating rifles and trench warfare. The subject of this vignette is one of the Civil Wars? more spectacular innovations; the first American 'Air Force'.

Ballooning in the United States began more than a half a century before the Civil War with a 1793 balloon lift-off attended by President Washington. For the next 60 plus years, American balloonists practiced their craft as a sport as well as for scientific purpose. At the outbreak of the war, balloonists with unionist and rebel loyalties recognised the military potential of the balloon and approached their respective governments with plans for balloon corps.

Thaddeus Lowe was one of the leading balloonists of the times. He also happened to have many influential friends in the Union government. Born in staunchly union New Hampshire, Lowe began ballooning in 1856. On April 20, 1861 he conducted a test flight that traveled over 900 miles before landing in South Carolina.

Only eight days before, South Carolina had been the sight of the beginning of the Civil War with the bombardment of Fort Sumter. Lowe was immediately arrested as a union spy and was almost hung before finally being released. Two months later, on June 18, 1861, Lowe flew the hydrogen gas balloon Enterprise from the Columbian Armory in Washington.

The balloon was equipped with a telegraph unit and Lowe sent President Lincoln a telegraph that read, ?I have the pleasure of sending you this telegram, the first ever dispatched from an aerial station.? Lincoln was so impressed that he immediately ordered funding for five hydrogen balloons and all their attendant necessities. The balloon corps would eventually include seven balloons.

Lowe was not able to organize his air corps in time to participate in First Manassas, the first major battle of the war. However, he was able to provide vital information immediately following the battle. The battle had ended with a complete rout of the Union army. Government and army officials were desperate for information concerning rebel intentions as an attack on Washington was anticipated.

On July 24, 1861, Lowe made a free flight over confederate positions and returned safely to Washington where he reported that the rebels were not moving toward the capital and that invasion did not seem likely. Lowe's balloon corps provided consistent, valuable assistance to the Army of the Potomac. Its most significant contribution occurred during General George McClellan's Peninsula campaign.

On May 31, 1862, Lowe was aloft in the balloon Intrepid, when he spotted large numbers of Confederate troops moving toward an isolated Union position. Lowe sent a telegram warning of the impending assault in time to allow the Union army to bring up reinforcements and prepare their defenses. Consequently, Lowe was credited with saving the Union army at the Battle of Fair Oaks.

On November 9, 1862, General McClellan was replaced as Commanding General of the Army of the Potomac. His replacement, General Ambrose Burnside, was not an enthusiastic supporter of the balloon corp. Lowe was frequently frustrated by new restrictions placed on his operations and finally resigned in disgust on May 7, 1863.

The balloon corps continued for a while without Lowe but its effort was minimal and it was disbanded by the end of 1863. Before its demise the first American 'Air Force' had one more historical role to play. Count Ferdinand von Zeppelin was visiting the United States as a military observer for the Wurttemberg army. On August 17, 1863, Zeppelin took part in a Union balloon ascension. This was Zeppelin's first aeronautical experience and undoubtedly contributed to his future as the founder of commercial aviation.

http://www.expage.com/page/aerogrammer13

also...for more about Thaddeus Lowe

Air War over Virginia
http://www.thehistorynet.com/CivilWarTimes/articles/1096_text.htm

Observations From Above
http://www.aaaim.com/echo/v3n2/v3n2ObservationsFromAbove.htm

Thaddeus Lowe: A Biography
http://www.civilwarhome.com/lowebio.htm

also...

Balloon Intrepid

Yankees launched the balloon 'Intrepid' from the Gaines property referred to as 'Powhite' in Hanover Co., Va. during siege of Richmond in Civil War. According to an account written by Fannie Gaines (Mrs. Seaton Grantland Tinsley) who was about 22 at the time of the siege and wrote the account in 1912, a General Low was the man ascending in the balloon to observe things going on in Richmond. Powhite was located east and slightly north of Richmond across the Chickahominy River. The siege started about May 1, 1862 and lasted about 6 weeks before Jackson's army arrived and drove them out in the battle of 'Gaines Mill' and Mechanicsville. My grandmother, Harriet Bryan Tinsley was there at the time and was 1 year 3 months old (May 1862)

also...from "Reminiscences of the Rebellion ...or what I saw as a private soldier of the 5th Massachusetts Light Battery from 1861-1863 by William Archibald Waugh (Born 1843)"

http://www.pompano.net/~rwaugh/CivilWar.htm

"I remember one afternoon that one of our generals went up in a balloon in front of our camp to look over the breastworks and see what the rebels were doing but he did not remain up but a short time. The rebels fired a shell from one of their batteries and it came very near going through the balloon. The general came down pretty lively and the shell burst in our camp but nobody was hurt."

December 11 - The Federal Army uses a balloon to transport men across the Rappahannock River during the American Civil War
---
1864
Count Ferdinand d'Esterno in France, publishes the first scientific observations of the effects of the wind on a wing in his pamphlet Du Vol des Oiseaux
---
1865
August - Lawrence Hargrave departs England and arrives in Sydney, Australia in November or December

Australian Dictionary of Biography [from here...ADoB] says November 5; Shaw says November 7; World Book Encyclopedia [from here...WBE] and Copley both simply say 1866]; a final source [to be verified] says December 15. Shaw's November 7 is most probably the correct date.

Charles de Louvrie in France takes out a patent on the first proper jet-aeroplane design - to be propelled by a jet of gas from the combustion of "a hydro-carbon or better, vaporised petroleum" [Gibbs p.68]
---
1866
The Aeronautical Society is founded in England.

June 27 - Francis Herbert Wenham reads to the newly founded Aeronautical Society, his important and influential paper entitled Aerial Locomotion based on his research of c.1858/59. - [full text]

The key element in his work was to establish that a cambered wing derives most of its lift from the front portion and that Cayley was correct in advocating a superposed wing structure for maximum lift with strength of structure. He also proposes that aspiring pilots should practice first in gliders before trying to fly powered aircraft. His own 5-wing gliders have little success. [Gibbs pp.55, 68]

Bland publishes a broadsheet on his Atmotic Ship (or Aermotic Ship) a steam driven twin airscrew hydrogen-filled airship [Copley p.3 and Carroll p.9]
---
1867
April 16 - Wilbur Wright is born in a farm home near Millville, Indiana

[His brother] Orville would be born in Dayton, Ohio, on Aug. 19, 1871. Their father, Bishop Milton Wright of the United Brethren Church, settled permanently in Dayton about 1884, his duties having previously taken the family to Iowa and Indiana. Neither Wilbur nor Orville received a high school diploma, and their formal schooling was interrupted by their interest in practical affairs, first a printing business and later, beginning in 1892, their bicycle shop.

They began by selling bicycles but soon added a repair shop, and in 1895 they began to manufacture bicycles. In their spare time, they read technical articles and books, and their interest in aeronautics gradually increased. The glider flights of Otto Lilienthal attracted their interest as well as works by Octave Chanute and Samuel P. Langley. Their first glider experiments were conducted at Kitty Hawk, N.C., in 1900, and they tested their second glider there in 1901.

Some of the Wright Brothers' work was observed and constructively criticised by Octave Chanute, and at his invitation, Wilbur reported upon their experiments before the Western Society of Engineers. This public review of their work led the brothers to verify their ideas by the use of a wind tunnel which they built themselves. By the end of 19O1 they had tested more than 200 wing types and had compiled tables of data upon which they felt they could rely.

Their glider of 1902 had almost double the efficiency of their previous ones, and when they returned to Kitty Hawk that year, they made more than 1,OOO flights. By the end of 1902 they were ready to begin building a powered machine. With the aid of their mechanic, Charles Taylor, they designed and built and an engine with the required lightness and power--12 hp at 1200 rpm, weighing 170 pounds. They also designed propellers.

The brothers returned to Kitty Hawk in November, 1903 and completed the airplane there. After overcoming a number of difficulties, they made the first man-carrying powered flights in history on December 17, 1903. The first flight, with Orville as pilot, covered about 120 feet and lasted 12 seconds. Wilbur, on the fourth and longest flight of the day, flew 852 feet in 59 seconds. The brothers returned to Ohio and conducted further experiments near Dayton at Huffman Prairie. They attracted little attention.

By the end 1904 they could keep the machine up for five minutes and fly complete circles. The brothers made more than two hundred flights in 1904 and 1905, and a patent was granted for the plane on May 22, 1906, but it was not until 1908 that they began to receive credit and attention for their invention. In that year Wilbur, flying in France, carried passengers on numerous flights and established distance and altitude records.

Orville, flying at Fort Myer, Va., was having equal success in the official Army trials, until the failure of a propeller caused the accident which proved fatal to his passenger, Lieut. Thomas E. Selfridge, and injured Orville severely. He soon recovered and joined Wilbur in France. After further successful flights in France, Italy, and England, the brothers returned to the United States, and a two-day celebration was held in Dayton in their honour in June, 1909.

The Wright plane passed all tests at Fort Myer successfully and was accepted by the Army on August 2. Later in the year Orville made a number of flights in Germany, and Wilbur flew at the Hudson Fulton celebration in New York. An American company to manufacture Wright planes was formed in November 1909 and the brothers found themselves immersed in business affairs, manufacturing and selling planes, arranging flying exhibitions, training pilots, and engaging in patent suits against Glenn Curtiss and others.

The courts decided the suits in favour of the Wrights, but worn out by the long patent struggle, Wilbur died of typhoid fever in Dayton, May 30, 1912, at the height of his career. He had made his last flights in May 1910. Orville continued flying actively until 1915 when he sold his interest in the Wright Company. His last flight was made in 1918. Though he served on the National Advisory Committee for Aeronautics and maintained an office in Dayton, he lived quietly there for the rest of his life. He died on January 30, 1948.

Hargrave is apprenticed at the Australian Steam Navigation Company

Le Bris tests an improved version of his glider, making several unmanned glides before it crashes.

Edmund Edwards and James Butler in England design a long box-like steam-powered aircraft. It has wings fitted to each side that run along the length of the craft rather than outwards from it and is driven by a propeller itself driven by steam jets at the end of each blade.

The first exhibition of flying machines is sponsored by the Aeronautical Society, in England.

John Stringfellow in England, proposes a man-carrying triplane, similar to Henson's aerial steam carriage. It captures the public's imagination, although the model does not perform well when tested.
---
1868
Hunter, an Englishman, designs a jet-aeroplane, with provision also for downward facing jets on the wings to provide lift [Gibbs p.69]

June - The first aeronautical exhibition is held at London's Crystal Palace... The most influential exhibit is Stringfellow's model triplane which is the first powered triplane ever tested. Steam-powered it is derived from a suggestion by Caley, and although not itself successful when tested it is to have, owing to continued and widespread publication, a profound influence in leading Chanute and others to adopt superposed planes [Gibbs p.69]

July 21 - Sir William Bland dies.
---
1870
January 5 - Thomas (Tom) Gale ascends by balloon from Sydney's Domain to Glebe [Copley p.4] [Carroll p.13] - Hargrave witnesses the event [Shaw]

John Allen (a partner of Gale) ascends by balloon in Sydney [Copley p.4]

Alphonse Penaud (1850-1880) in France, uses twisted rubber bands to power a miniature helicopter. It's copied by dozens of toy makers in Europe in America - One is bought by the Reverend Wright to give to his young sons Wilbur and Orville.

Gustave Trouve successfully flies his gunpowder driven model ornithopter. It flies for some 70 m
---
1871
August 18 - Penaud flies his Planophore in the Tuileries Gardens in Paris. The Planophore is a 20-inch long tandem monoplane with a pusher propeller powered by a rubber band. It flies 131 feet in 11 seconds - the first flight of an inherently stable aircraft

August 19 - Orville Wright is born in Dayton, Ohio

also that year...

January 7 - Thomas Gale with John Allen as a passenger ascended in his balloon 'Young Australian' from Victoria Park Sydney. After floating for about 2 hours, passing over the University, Five Dock and Cockatoo Is., they came down in Delonges Bay between Tarban Creek and Kissing Point. The car struck the southern bank and was dragged across the bay where is stuck fast in the mud and the balloon callapsed. Gale claims to have reached a height of 2.5 miles. The 'Young Australian' was 72 feet high and 112 feet at widest point of circumference. An attempt of 2 January had been abortive as the seams burst when inflating the balloon.

http://www.bankstownairport.com.au/fun_facts/balloons/Balloons_Australia/index.htm

also...

In France, Alphonse Penaud and Victor Twain experimented with machines that utilised compressed air and rubber bands in order to power their crafts [http://www.unc.edu/~hemphill/wright.html]

Thomas (Tom) Gale is the first to fly a balloon in South Australia. [Copley p.4]

Wenham and John Browning in England, build the world's first the wind tunnel for the Aeronautical Society of Great Britain. They use it to prove that cambered wings produce more lift than other shapes.
---
1872
Hargrave explores New Guinea till 1877 [Goode 1977]

Hargrave & Albertis: Early contact in the Fly-Sepik region
http://rses.anu.edu.au/NWP/early-contact.html

Paul Haenlein, a German engineer, flew in a semi-rigid-frame dirigible, powered by a 4-cylinder internal-combustion engine running on coal gas drawn from the supporting bag. The first gas-engine-powered dirigible.
---
1873
Clement Ader in France builds a bird-shaped glider with feathered wings and makes a few tethered accents

Etienne-Jules Marey publishes La Machine Animale (published in Britain in 1874 as Animal Mechanism) It is read by the Wright Brothers. Marey is also to lay the foundations of cinematography [Gibbs p.70]

The New York Daily Graphic sponsors the first attempt to fly the Atlantic with a 400,000 cu. ft. balloon carrying a lifeboat. A rip in the bag during inflation brings about the collapse of the balloon and the project.
---
1874
Du Temple launches a full-size aeroplane an down an inclined ramp at Brest, France. It is manned by a French sailor and believed to have been powered by a form of hot-air engine . No sustained flight results but it is the first test and take-off by a full-size, manned aeroplane [Gibbs p.70]

D. S. Brown completes the tests of his tandem-wing gliders and publishes the results in the Annual Report of the Royal Aeronautical Society for that year. He is concerned with longitudinal stability and was probably inspired by Walker (see 1831). Brown in turn probably was the main influence for Langley (see 1892 and 1896)

July 9 - Vincent de Groof, a Belgian is killed at Cremorne Gardens in London when his ornithopter is released from a balloon and crashes [Gibbs p.70]
---
1875
June - Thomas Moy flies his Aerial Steamer, a large tandem-wing steam-driven model tethered at the Crystal Palace, London. It is the first time a steam-powered model aeroplane lifts itself off the ground [Gibbs p.70]
---
1876
N. A. Otto of the German firm Otto and Lagen develops the four-stroke petrol engine [Gibbs p.76]
---
[ Early - 1782 ] [ 1783 - 1849 ] [ 1850 - 1876 ] [ 1877 - 1892 ] [ 1893 - 1903 ] [ 1904 - 1960 ]