---
Lt. Col. Jacquelyn Susan "Jackie" Parker
Pilot : F-16, F-111, F-4, C-141 and KC-135 to the T-38 and UH-60 Blackhawk
---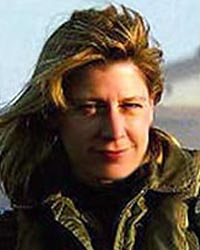 Lt. Col. Jacquelyn Susan "Jackie" Parker
http://www.womeninaviation.com
First American Woman to Become Combat Qualified in the F-16
It was a proud moment in July 1988 when Capt. Jacquelyn S. "Jackie" Parker became the first woman Air Force pilot to attend U.S. Air Force Test Pilot School at Edwards AFB, California.
Those who knew her, however, were not surprised - Jackie had learned to fly an airplane even before she drove a car.


Jackie Parker not only became first in many fields, but she started out as the youngest. At age 14 Jackie was the youngest student to attend the University of Central Florida; and at 17, the youngest to graduate.
She saved up enough money to get her private pilot's license but was too young to join the Air Force. However, with tenacity, persistence, and a bachelor's degree in computer science, Jackie was selected as an intern at NASA and by 18 she became the agency's youngest full-fledged mission controller.
Wanting to be a pilot since she was a small child, Jackie had accumulated more than 3,000 flying hours in more than 25 types of aircraft, from the F-16, F-111, F-4, C-141 and KC-135 to the T-38 and UH-60 Blackhawk.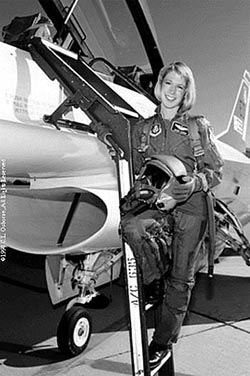 Lt. Col. "Jackie" Parker

Gulf War Gen. Norman Schwarzkopf presented Jackie with a distinguished award, "Gathering of the Greats" at the American Academy of Achievement where she spoke to young people and invited guests at Nellis AFB, Nevada. In a letter from Secretary of Defense Les Aspin in 1993, he wrote Jackie to say,
"... Your accomplishments as an aviator have been no less than exemplary. Now as the first Air National Guard woman in F-16 training you are setting goals and standards for other women to emulate. I commend you for the years of hard work you have dedicated to this effort..."
In June 1994, she was presented with the "Ground Breaker Award" by First Lady Hillary Rodham Clinton, on behalf of Women In Military Service For America (WIMSA) for her achievements in military aviation.
---
Lt. Col. "Jackie" Parker
http://www.sbas.ndirect.co.uk
Major Jackie Parker was one of the first female fighter pilots assigned to an F-16 Viper squadron. I photographed her in November 1994. For once I was happy to see overcast conditions. I wanted to portray her as a fighter pilot, not a prom queen. I think the gray and damp conditions contributed to the overall affect. It was indeed a bad hair day.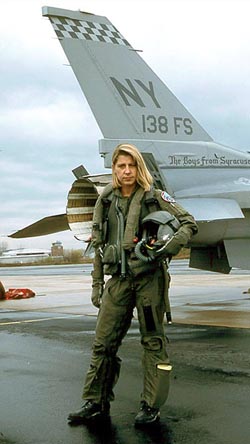 Lt. Col. "Jackie" Parker

Photo : David F Brown, Portfolio #10

This image has received a lot of mileage in aviation periodicals and even the national news service. I took my daughter along on this photo shoot so she could see first hand that woman do fly fighter jets. For this shot I used my Canon A1, 55mm lens and Kodachrome 64. Shutter speed was down around 30th and/or 60th of a second. I bracketed the F stop using depth-of-field previewing to ensure the proper depth of field.
---
Lt. Col. "Jackie" Parker, USAF
http://www.au.af.mil
First female Air Force test pilot
Jackie (also Jacquelin, Jacqueline, Jacquelyn) Parker attended the University of Central Florida, majoring in mathematics and computer science. She graduated from college at age 17, the youngest graduate in the school's history.
Jackie became an intern at NASA's Johnson Space Center, and was responsible for analysis of onboard computer systems. She was the youngest flight controller in NASA's history. After completing Officer Training School in 1980, she entered pilot training at Reese Air Force Base.
She received her pilot wings in 1981, later becoming the first female T-38 instructor there. Between 1983 and 1985, she was named "Most Outstanding T-38 Academic Instructor" five times. Jackie transitioned to C-141 transport aircraft and was assigned to the 76th Military Airlift Squadron as an instructor pilot and squadron executive officer.
In 1989 she graduated from the Air Force Flight Test Pilot School at Edwards Air Force Base as the first female test pilot in the history of the United States Air Force. She is twice the recipient of the prestigious "Kitty Hawk" Award for achievements in the field of aviation. Major Parker is currently in training as an F-16 fighter pilot at McConnell Air Force Base in Wichita, Kansas
---
Jackie Parker - Fighter Pilot
http://www.codeonemagazine.com
Interview by Eric Hehs
This article appeared in the April 1995 issue of Code One
Soon after Defense Secretary Les Aspin announced in 1993 that women could be placed in US military combat roles, the New York Air National Guard offered Maj. Jackie Parker an F-16 assignment. Throughout her Air Force career, she had been the first female in a number of traditionally male assignments.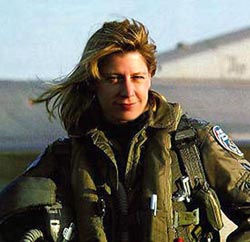 Lt. Col. "Jackie" Parker

http://www.codeonemagazine.com

She was Reese AFB's first T-38 instructor pilot and the first female graduate of the USAF Test Pilot School. Parker will tell you that being first has not always been pleasant. The opportunity to fly the world's best fighter, however, was too good to pass up. Parker is the first woman in the United States to be assigned to an F-16 fighter squadron.

Before setting out on a career of female firsts, Parker spent her earlier years being the youngest. This designation goes back to her birth as the youngest of five sisters. At age fourteen, she was the youngest student to attend the University of Central Florida and then, at seventeen, the youngest graduate. She took her bachelor's degree in computer science to NASA where she became the agency's youngest space flight controller. She was the Air Force's youngest instructor pilot for the T-38 and for the C-141.

Parker has accumulated over 3,000 flying hours in over twenty-five types of aircraft, including the F-16, F-111, F-4, A-7, C-130, C-141, KC-135, T-38, OH-58, and UH-60. After KC-135 Aircraft Commander School at Castle AFB, California, she was assigned to the 4952nd Test Squadron of the 4950th Test Wing at Wright-Patterson AFB, Ohio, where she was program manager and test pilot for the T-38 head-up display program. She was also program manager and test pilot for the testing of the C-27.

She was elected as outstanding T-38 academic instructor at Reese five times. She received the Air Force Commendation Medal in 1985 and 1988 and the Meritorious Service Medal in 1993. Parker doesn't relish media attention. The fact that one photo of her gets extended play in the media, however, often creates the opposite impression. In reality, she accepts very few interview requests and usually only after she has established credibility at an assignment.

Code One's Eric Hehs interviewed Parker in Syracuse, New York, where she is now one of two female F-16 pilots flying for "The Boys from Syracuse," the 138th Fighter Squadron of the 174th Fighter Wing of the New York ANG. ...more

Top | Pioneers Home