---
Ruth Bancroft Law (Oliver) (1887-1970)
---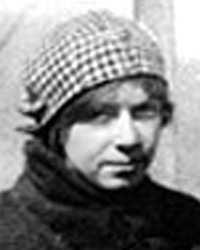 Ruth Law
http://www.nasm.si.edu
Ruth Law enjoyed one of the longest and most colorful careers of early female aviators. She was so successful that, in 1917, she earned as much as $9,000 a week for exhibition flights.
Law enrolled in the Burgess Flying School in June 1912, made her first flight on July 5, and soloed on August 12.
She bought her first aircraft from Orville Wright in 1912 in which she became the first woman to fly at night. Later she purchased a Curtiss Pusher.

In 1916, Law set three records on a flight from Chicago to New York, and she had the honor of carrying the first official air mail to the Philippine Islands in 1919. In 1917, she was the first woman authorized to wear a military uniform, but she was denied permission to fly in combat.
Instead, she raised money for the Red Cross and Liberty Loan drives with exhibition flights. After the war, she formed "Ruth Law's Flying Circus," a three-plane troupe that amazed spectators at state and county fairs by racing against cars, flying through fireworks, and setting altitude and distance records.
One morning in 1922, however, Law read the announcement of her retirement in the newspaper--her husband, Charles Oliver, could no longer bear his wife's hazardous occupation and simply put an end to her flying career.
Chicago, c. March, 1922 ---"It's my husband's turn now, I've been on the limelight long enough, I'm going to let him run things hereafter and me, too." The speaker was Ruth law Oliver, daring woman aviatrix, who for 10 years has been courting death and defying it as a stunt flier both in Amereica and Europe. She has quit aviation. Retired forever. "Why?" "Because I'm a normal woman and want a home, a baby, and everything else that goes with married life," she says. "Why, I've been married for almost 10 years to Charlie Oliver, the man who has managed my exhibitions, and scarcely anyone knew who he was. "And the poor boy was so worried about me all that time that every time I went up he lost a pound." "He was a matter of choosing between love and profession. Of course, I'm just crazy about flying, but one's husband is more important." [http://members.tripod.com]
---
Enlisted Footsteps in History
http://www.au.af.mil
30 Jun 1917 : Ruth Law became the first enlisted Army aviatrix and allowed to wear NCO Uniform
---
Ruth Law Oliver
http://members.tripod.com
Ruth Law Oliver, the first woman to loop the loop in an airplane, the first to make a night flight and the one- time holder of the Chicago to New York aerial speed record, died Tuesday, December 1, 1970 in San Francisco at the age of 83. Ruth Law bought her first airplane in 1912 from Orville Wright when she was 21 years old.
From that time she proceeded to pile up new records in flying and was the outstanding woman barnstormer of her era. In 1917, Miss Law was the first woman authorized to wear a military uniform, but she was denied permission to fly in combat. She was told that she could do a lot of good just by teaching others to fly. ...more
---
Ruth Law: Record Setter
by Henry M. Holden © Black Hawk Publishing Co.
http://www.women-in-aviation.com
Ruth Law was at the Boston Air Meet and watched Harriet Quimby fall to her death. Just one month earlier, she had enrolled in the Burgess Flying School. Quimby's death shook Law, but did not stop her.
She tasted a sense of fulfillment in flying and would not return to the traditional role defined by society. "I purchased a Wright biplane because it seemed to me they had the greatest success. Harriet died in a monoplane, but that didn't scare me. I figured it was the monoplane's fault."
On August 1, 1912, Ruth soloed and received her license on November 12, 1912. She immediately went to work as a commercial pilot, flying passengers to and from the Sea Breeze Hotel, in Florida. She soon bought a Curtiss Pusher "Loop Model" and began flying aerobatics at Daytona Beach, Florida. ...more
---
Ruth Law
http://www.esparacing.com
The other great woman aviator of the war years was Ruth Law, also from a family of aviators. Law was a very competitive individual, likely to try anything just because someone told her she couldn't do it. Just such a dare was responsible for her being the first woman to perform a loop in 1915.
Ruth Law competed in several altitude and distance events, sometimes winning and setting records, but always being greeted by adoring crowds and always demanding that she be evaluated on the same basis as male fliers.
At America's entry into World War I, Law applied to the United States Army to fly combat missions. She bristled when she was turned down and wrote an article for Air Travel ("Let Women Fly!") that inspired many future women aviators.
After the war, Ruth Law formed a flying circus and became one of the most successful barnstormers of the 1920s. She retired from flying after one of her women stunt flyers, Laura Bromwell, was killed in a stunt.
---
Ruth Law and Baseball!
http://www.baseball-almanac.com
Wilbert Robinson (1863-1934) was a famous player and manager from baseball's early period who is a Hall-of-Famer. He was one of the "old Orioles" of the 1890's, a rough and tumble team that played hard and lived the same way. Robinson was a close friend and colleague of John McGraw until they had a falling out, to be reconciled only shortly before McGraw's death.
He went on to become manager of the Brooklyn Dodgers in an era when they were sometimes known as the "daffy Dodgers" for their antics on the field. Robinson endeared himself to the Brooklyn fans and became a kind of baseball icon while always enjoying his family and friends.
[...] Robbie went down in baseball lore for his attempt to catch a ball dropped from an airplane. In 1908, Gabby Street had caught a ball dropped from the Washington Monument. Robbie scoffed that this was all that difficult a feat and so Ruth Law, a famous aviatrix, was enlisted to fly a plane higher than the Washington Monument and drop a ball for Robbie to catch.
There are several versions of what happened next-one version of which put Dodger Casey Stengel in the plane to make the drop. But Law flew alone. When Robbie, the old Oriole-now 53 years old-caught the object he saw falling from the plane, he was splattered with warm juice from a grapefruit. The impact knocked him to the ground whereupon he exclaimed: "Help me, lads, I'm covered with my own blood."
Law explained in 1957 that she had forgotten the baseball back in her hotel room and when she discovered the situation it was too late to retrieve the ball. So she took a grapefruit from the lunch of one of the ground crew and dropped it instead.
---
Flying Femmes
http://www.wasp-wwii.org
War has always provided an opportunity for women to advance in fields where they were not welcomed prior to emergency situations. Did you know -- in world War I two women ran a school for war fliers, Mary and Katherine Stinson operated a school located in Texas, where they trained a great number of pilots who helped bring the War to a victorious close.
Ruth Law was another World War recruit of Aviation. She was sent to Europe - directly to the battle fronts in order to gain first hand knowledge of the actual fighting. She returned fired with enthusiasm, and enlisted in the U.S. Aviation Corps, as a recruiting officer. Her efforts were responsible for recruiting many of our fighter pilots.
While doing this important war work, Miss Law found time to break a few records on her own. In 1916 she set the world's altitude record of 11,200' at sheepshead Bay, N.Y. In the same year she flew 511 miles non-stop, from Chicago to Hornell, N.Y.. then on to New York City in 8 hr. 55 min. 25 sec. using a Curtis bi-plane.
---
Gallery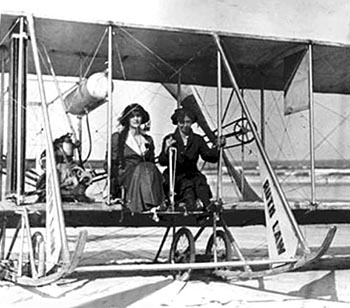 Aviatrix Ruth Law (r) and Mrs. Robert Goelet
Model "B" Wright airplane, Daytona Beach, Florida, 1914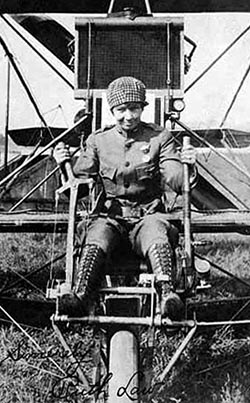 Ruth Law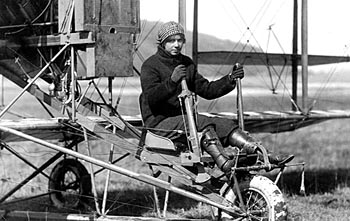 Ruth Law
download a 750pixel image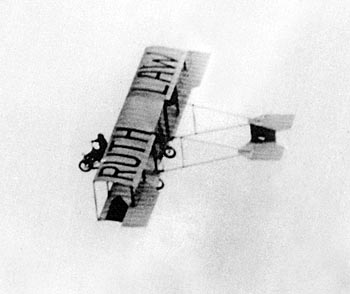 Ruth Law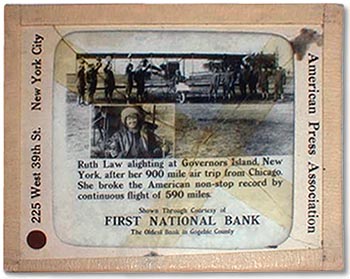 Ruth Law, Governors Island, New York
A 3.75" x 4" glass projection slide made by The American Press Association and "shown through courtesy of First National Bank....The Oldest Bank in Gogebic County."
---
Further Reading : Online

Ruth Law
http://www.hiller.org
Top | Pioneers Home