---
Sabiha Gökçen (1913-2001)
---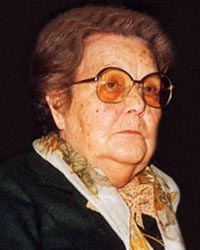 Sabiha Gökçen
http://www.dofa.org
Sabiha Gökçen was born in Bursa on March 21 1913. She started elementary School during the Turkish war of Independence. She was adopted by Ataturk during his trip to Bursa in 1923 and was brought to Ankara.
She completed her elementary education at the school in the garden of the Cankaya Presidential Mansion. She started secondary school at Arnavutkoy American College for Girls, but due to her health problems she continued her education with private tutors at the Cankaya Mansion.


Upon the passing of the Surnames Law in 1934 she was given the surname of Gökçen by Ataturk. She was accepted to The Turkkusu-Turkish Civil Aviation School which was established by the Turkish Aeronautical Association (Turk Hava Kurumu) in 1935 upon Ataturk 's orders as the first girl student. After having had training on gliders, she received 'A' and 'B' licenses and was sent to the Academy at U.S.S.R. for advanced training on glider pilotage and to become a glider instructor. ...more
---
Sabiha Gökçen Dies
http://www.byegm.gov.tr
Sabiha Gökçen, the adopted daughter of Mustafa Kemal Ataturk, the founder of the Republic of Turkey, died in Ankara on March 22, 2001 at the Gulhane Military Medical Academy where she had been undergoing treatment. Following the announcement of her death, flags were flown at half mast at the Pendik Sabiha Gökçen International Airport.
Sabiha Gökçen, Turkey's first female combat pilot, was laid to rest on March 23, in Ankara.
A message of condolence issued by President Ahmet Necdet Sezer said that "In addition to having the honor of being Ataturk's adopted daughter, she will always be remembered by the Turkish people as a symbol of the modern Turkish woman." Conveying his condolences to the aviation world and to all of Turkey, Prime Minister Bulent Ecevit said that Turkey was proud of her.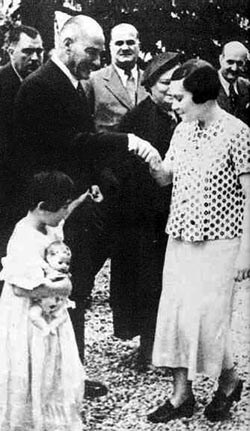 Sabiha Gökçen greets Mustafa Kemal Ataturk

download a 1000pixel image


Sabiha Gökçen was born on March 21, 1913 in Bursa. During a visit to Bursa in 1925, Ataturk met Gökçen and then adopted her when he heard of her miserable living conditions. Gökçen attended Çankaya Primary School in Ankara and the Üsküdar Girls' College in Istanbul.

In 1935, she was enrolled in the Turkish Aviation League's "Turk Kusu" Civilian Aviation School. She was sent to Russia, together with seven male students for advanced training in gliding; and subsequently enrolled at the Military Aviation Academy in Eskisehir in 1936. She also received training at the First Aircraft Regiment in Eskisehir, and flew fighter and bomber planes.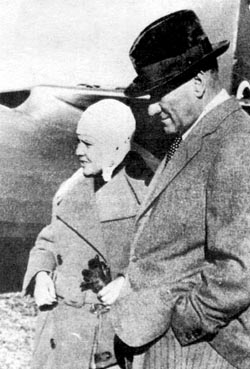 Sabiha Gökçen and Mustafa Kemal Ataturk


Gökçen subsequently achieved high acclaim not only in civilian, but also in military aviation. She participated in the Thrace and Aegean exercises in 1937, and the same year joined the "Dersim Operation". During the Seyh Riza Rebellion, she facilitated the land operation by bombing Dersim and its surroundings.

In 1938, she carried out a five-day flight around the Balkan countries to great acclaim. Later, she was appointed chief trainer of the Turkish Aviation League's "Turk Kusu" where she served until 1955. Later, she became a member of the Turkish Aviation Executive Board. She flew around the world for a period of 28 years until 1964.

Her book entitled A life Along the Path of Ataturk was published by the Turkish Aviation League to commemorate Ataturk's 100th birthday.



Sabiha Gökçen and Mustafa Kemal Ataturk
Sabiha Gökçen and Mustafa Kemal Ataturk
---
Sabiha Gökçen, Turkey's first female aviator, dies aged 88
Ankara- Turkish Daily News, March 23, 2001
http://www.turkishdailynews.com
Turkey's first female aviator Sabiha Gökçen passed away Wednesday night in Ankara's GATA military hospital aged 88. Born in Bursa in 1913, Sabiha Gökçen was unofficially adopted by Ataturk in 1925. She entered the Turkish Aviation Authority (THK) Turk Kusu School of Civilian Aviation in 1935 where she first learned how to pilot gliders.
She completed her glider training along with seven male students in Russia. Sabiha joined the THK School of Military Aviation in 1936 and became a military pilot before being posted to the Eskisehir First Aircraft Regiment, where she flew bombers.
Sabiha Gökçen took part in military exercises in the Aegean and Thrace in 1937 as well as the Dersim operation that same year. The following year she toured the Balkans with her plane as a guest of the Balkan countries before being appointed Senior Instructor at the THK Turk Kusu School of Aviation in 1938. She served in this position until 1955.
In an interview last year, Sabiha Gökçen recalled her memories of Ataturk and could not hold back her tears. She noted there had been an increase in defamatory attacks on the memory of the man who founded the Turkish Republic. Flags at the Sabiha Gökçen International Airport in Pendik were flying at half mast in a display of respect.
Top | Pioneers Home